An alphabetical list of all the places in the Algarve served by bus and train is here. The list below shows the most frequently consulted pages in the site.
All timetable pages carry the date on which I was last able to verify the times as being correct. I have used almost all the buses and trains myself.



CP OFFERS 25% DISCOUNT ON TRAIN TICKETS FOR THOSE AGED 25 YEARS OR UNDER

CP offers 25% off

If you are aged 25 or under, CP is offering a 25% discount on all Alfa Pendular, Intercidades, InterRegional and Regional train tickets.

You can use this discount in any class, any day of the week. Just show official ID with proof of your age such as a Citizen card, ID card, driving licence or passport.

You can buy your tickets from long-distance ticket offices, netTICKET travel agents. These tickets can be reissued or refunded.

Young people aged 26 or over can still enjoy the Cartão Jovem discount for individual journeys.





TRAIN AND BUS SERVICES CHRISTMAS AND NEW YEAR HOLIDAYS
Trains - So far as I can tell the trains will be running as follows :

December 24th - normal weekday service December 25th - Sunday service
December 31st - normal weekday service January 1st - Sunday service
Please do check on the official website as changes may be made!
NB - December 26th is not a holiday here, normal weekday times apply.

Buses - Long distance buses (Coaches) operate a similar pattern to the trains with late and overnight journeys on the 24th and 31st cancelled and a reduced service on 25th December and 1st January. Check with operators at their websites if planning to travel on those days. The International service between the Algarve and Spain does NOT operate on either December 25th or January 1st.

Buses - local and urban buses generally operate a normal weekday service on 24th and 31st December, with a Sunday service on December 25th and January 1st. Check locally if planning to travel on those days. I do know that the Portimão local Vai e Vem buses will stop at around 6pm on the 24th and 31st. Again I will update further as and when any reliable information is available.
STEP FREE ACCESS TO RAILWAY STATIONS AND TRAINS
I must emphasise that there is NO STEP FREE ACCESS at any Algarve station to any train while it is in the platform. All trains in use have steps up into the carriage. Some platforms are very low, making it difficult for some. I am adding an item to the 'disabled page' with detail of the various stations. It is not yet complete as I have few recent visits to use as a reference. There is no prospect of the situation being improved in the short term. With the European regulations being tightened and changes required by 2020 and the country being broke, the railways will have to be closed down before it becomes an issue.

ADDED PAGES FOR COVILHÃ AND GUARDA
Following my recent visit to Covilhã and Guarda I have added a page for each summarising the different ways to get there and how to get around once arrived.

TOURIST PASSES FOR ALGARVE BUSES
These are available as three day versions at €28,80 and seven days for €35,90. Days must be consecutive. They can be bought at any bus station ticket office, also the Albufeira old town Bus Shop and the EVA ticket office in Largo do Dique, Portimão. They are valid on ALL buses operated by EVA or Frota Azul listed in timetables on this site. They are NOT VALID on EVA, Rede-Expressos or RENEX long distance services, international services nor on the local urban buses in Lagos, Portimão, Albufeira, Loulé, Vilamoura, Quarteira, Faro and Tavira. The local buses in those towns have their own day passes, multi-ride tickets and season tickets for frequent or regular users.

There is no other discount for persons over 60 / 65 except for residents.

BUS DELAYS - SOME RECENT EXAMPLES
Traffic congestion and unrealistic timetables mean that buses cannot be relied upon to run to time, especially on the longer journeys. Here are some examples from my recent travels, all on weekdays except one :
Albufeira - Portimão (by the 1335 slow bus) 15 minutes late arrival owing to a diversion caused by building works in Pêra.
Albufeira - Lagoa (on a Saturday) on the fast bus - the 1415 left Albufeira five minutes late for no apparent reason, nine minutes late into Lagoa. The return journey scheduled at 1655 was seven minutes late, which I had gambled on and just made it after the football had finished! Otherwise it meant a wait until 1830 for the next one.

Portimão - Albufeira Transrápido fast bus (it comes from Lagos) due out at 1740 left at 1756. Arrival in Albufeira was 25 minutes late.

(Rather contrarily, recently the 1840 bus left on time, stopped just twice en route to drop off passengers and once to pickup a single passenger and still managed to be 6 minutes late arriving at Albufeira!)

Quatros Estradas (near Loulé) to Albufeira bus due at 1058 was twenty minutes late - it comes from Faro via Loulé. On the same day the 1145 Transrápido bus from Faro to Lagos was observed 15 minutes late at Albufeira.
IMPROVEMENTS TO BUS SERVICE AT FARO AIRPORT - ALREADY TAKEN AWAY!
The new route 19, which linked the airport with the city centre, has already been discontinued. I don't know if this is just for the winter but there is nothing on the website. This means we are now back to the irregular service of one or two buses each hour.
First bus from Faro to the airport is at 0500 every day, the last bus from the airport to the city centre is at 2320. There are long gaps between between buses on weekend evenings.
More information with links to official timetable and maps
here
IMPROVEMENT WORKS ON THE RAILWAY BETWEEN FARO AND VILA REAL DE SANTO ANTÓNIO VIA TAVIRA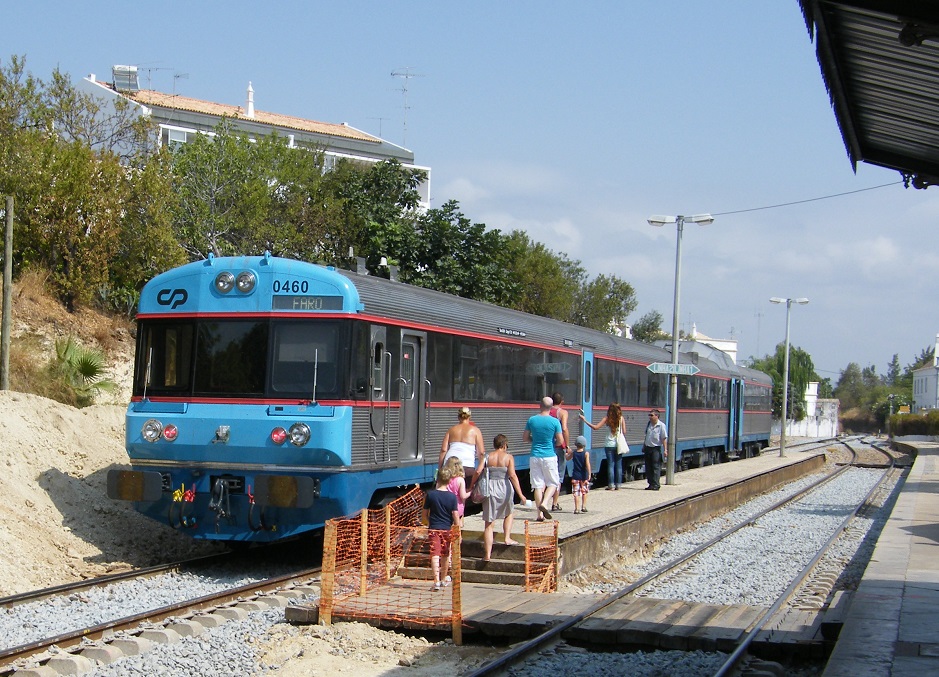 The railway is spending €1.52 million relaying tracks, replacing sleepers (cross-ties) and other improvement work on the eastern end of the line between Faro and Vila Real de Santo António. There is no apparent effect on train services as the heavy work is being done at night. However, visitors may encounter temporary facilities at some stations. In most cases there will be no step-free access to any platform across the tracks. There never had been anyway! Let's hope that situation improves.

Tavira station Thursday 29th August 2013 showing shortened platform and temporary crossing. Click to see full size
NEW BUS STATION FOR FARO
It was announced earlier this year that a new bus station is to be built in Faro.
It will be next to the existing building, on land currently used as parking area.
As of 20th November, when I was last in Faro, no work had taken place.
NEW TRAINS IN SERVICE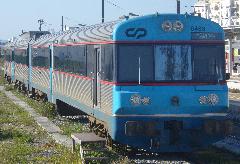 Newer trains (picture, left) are in service on the Algarve line. Many have already been vandalised by the local youth and are most uninviting to the visitor.
These trains have push button doors and air conditioned interiors. However, as the picture to the right shows, bike users may have problems getting their mounts on and off the trains at the stations with low platforms as there is no proper step to the 'baggage' compartment.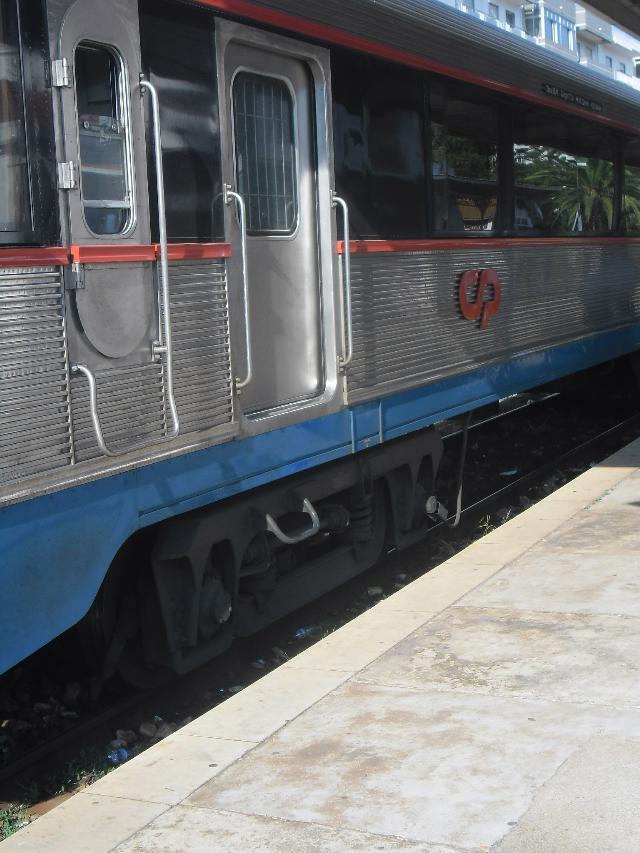 I took mine in through the passenger door and wheeled it down the train to the 'baggage' compartment at the end. There is NO step-free access into the carriages, therefore disabled persons may also find it very difficult to get on and off. Getting a wheelchair etc on or off is well-nigh impossible. No assistance is available at stations. See also
this picture
of unit 0462 on the low platform at Tavira.
A member of the regional council wrote to the railways earlier this year, complaining vigorously about the the 'third world' state of most of the railway stations here. He is right. Do not expect anything even remotely like even the worst station in your home country. Most of the stops are unstaffed, have been heavily vandalised and basically left to fall into ruin. Do not expect even to see timetables posted, let alone any information about 'next train´.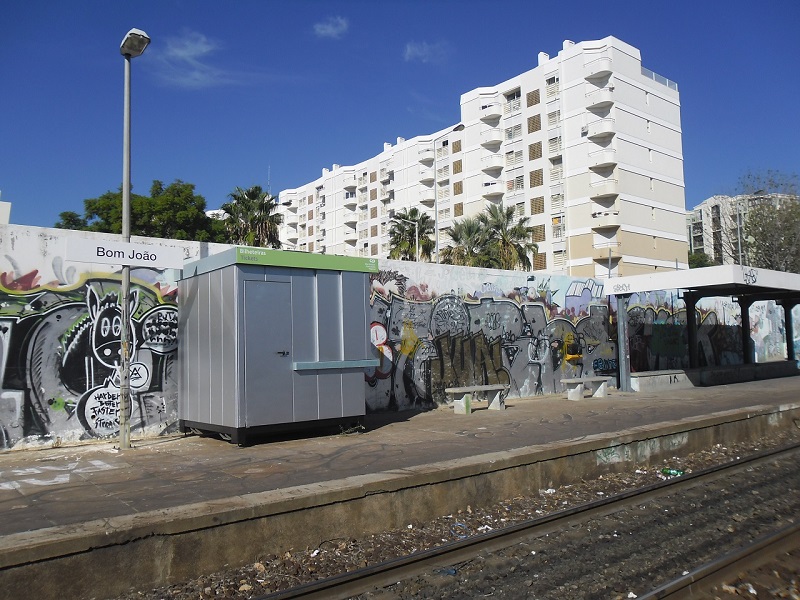 Left - the inviting station facilities at Bom Jõao, a suburb of Faro, October 17th 2013. Click to see full size.
OUT OF DATE TIMETABLES AT BUS STATIONS ETC
On my journeys I have noticed that out of date timetables are posted at several of the bus stations etc. If the bus companies cannot be bothered then we have problems! I have used the most up to date versions where I can find them - the people at Lagos and Portimão are pretty good, not so good elsewhere. There are no EVA timetables at all posted at Faro Bus Station or at the bus stop outside!

This site is being visited about 500 times a month. May I thank you for the positive comments and feedback I am receiving.