Bus Maps of Albufeira
Information correct to the best of my knowledge 21st August 2015

TIMETABLES ARE NOT DISPLAYED AT MOST BUS STOPS.
THERE IS NO OFFICIALLY PUBLISHED TIMETABLE FOR THE GIRO BUS NETWORK

LOCAL 'GIRO' BUSES
The official map of GIRO buses around Albufeira is here in PDF file format - external link to Albufeira Council website.
It does NOT show the routes of EVA and Frota Azul inter-urban buses and also has some minor inaccuracies!

For my bus and train map of the whole Algarve region, please click here. Neither regional bus company website has a map.

CLICK ON THE MAPS FOR THE LARGER SIZE

A very basic diagram showing all the buses around Albufeira, click it to see a larger version
THERE WERE CHANGES TO THE GIRO BUS NETWORK FROM 1ST FEBRUARY 2015. SERVICE HOURS AND WEEKEND FREQUENCY HAVE BEEN REDUCED
NO INFORMATION HAS BEEN OFFICIALLY PUBLISHED. INFORMATION AT MOST BUS STOPS IS NOW TOTALLY OUT OF DATE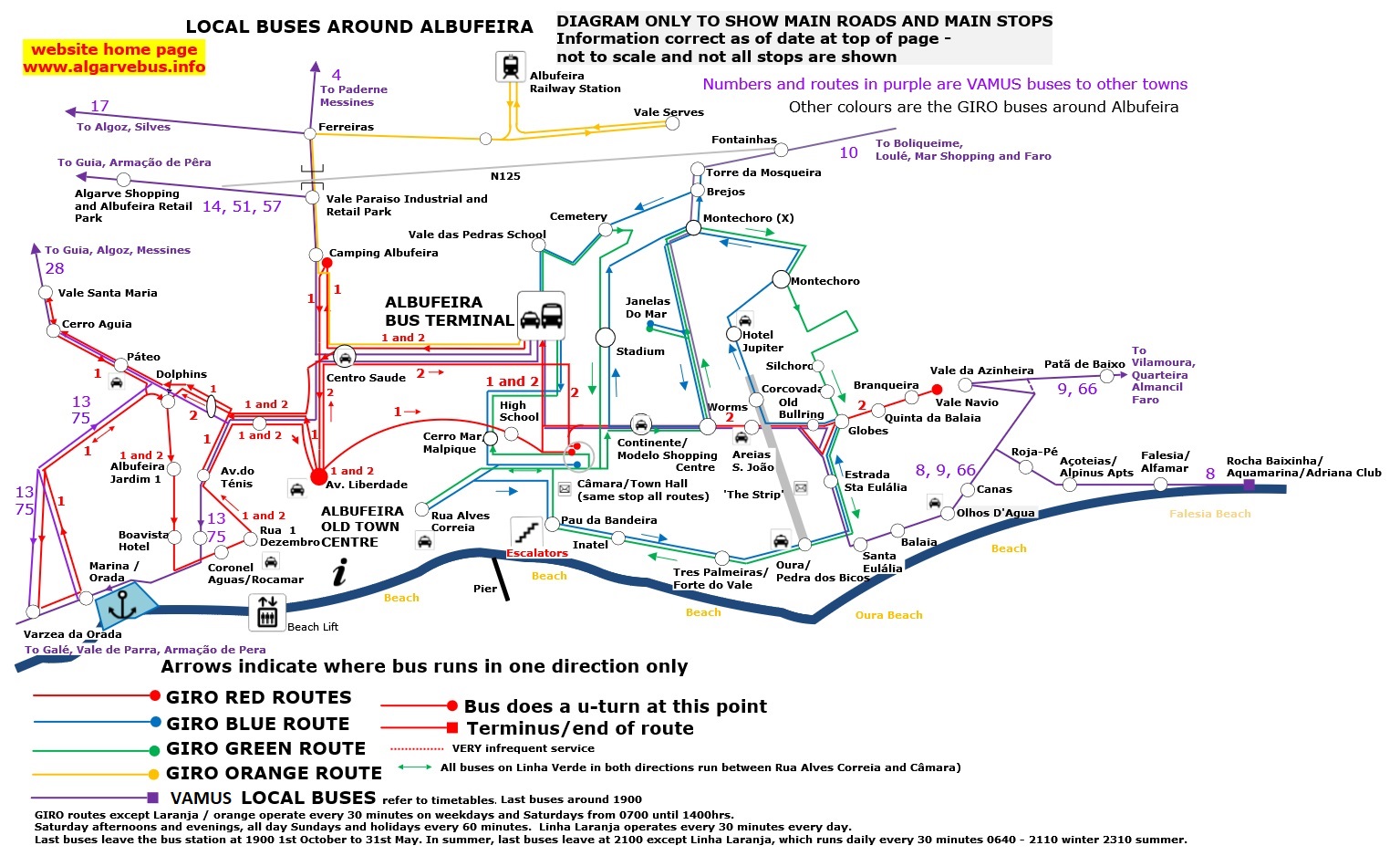 This diagram shows all the routes linking Albufeira with nearby towns and villages and all the stops in the town of Albufeira.

I have a summary
here
of the buses to the main places you can visit.
The map below shows the stops for the EVA and Frota Azul buses linking Albufeira with nearby towns and villages.
These bus routes do not have route/line numbers, so the colours are used to differentiate between them.
All buses apart from the Frota Azul bus to/from Messines (purple) start or end their journeys at the Bus Station.
These buses do NOT go to the old town centre, which is 1.6km/1 mile from the Bus Station.

A map of Albufeira showing the main roads, roundabouts and the different areas, click here.
For a good interactive map of the Albufeira town area, click here.

Back to the Albufeira bus page here

Back to the main page here
www.algarvebus.info