GUIMARÃES - how to get there by train or bus and how to get around
THIS PAGE CHECKED AND UPDATED 22nd AUGUAT 2023


PLEASE CHECK AT THE OFFICIAL WEBSITES FOR THE TIMES ON THE EXACT DATE YOU PLAN TO TRAVEL
LONG DISTANCE BUS (COACH) TICKETS MAY BE AVAILABLE ONLY 30 DAYS IN ADVANCE

I have no easy means to check or update so please confirm through sources given below.

Guimarães (pop.55,000, urban area 112,000) is a city of Northern Portugal - it is not in the Algarve. I was visiting. It stands about 54km (34 miles) north-west of the major city of Porto.
It is therefore about the same distance from PORTO airport. Lisbon and its airport are some 365km (250 miles) to the south.
From Porto Airport to Guimarães

Direct bus

GETBUS operates a direct service between Porto Airport and Guimarães, costing €8 each way or €14 return. There are 7 or 8 buses every day. The journey takes 50 minutes and is the quickest way. Tickets can be bought on line or from the bus driver. At Guimarães tickets are also sold at the Mondinense ticket office in the bus station.

Metro and train

By metro and train it is frequent, straightforward and inexpensive. Take the METRO DO PORTO Line E from the Airport to Campanhã station. You may need to change trains, which I recommend you do at Lapa station where this is done on the same platform, no need for steps, tunnels etc. Trains are currently running about every 15 minutes every day between about 0700 and 2000, about every 30 minutes at other time. The first train from the airport is at 0606 on weekdays, 0558 on Saturdays and 0557 on Sundays and public holidays. The last train is at 0042 every day. That will take about 35 minutes and costs €2.75 - a Z4 (four zone) ticket. More details at the METRO DO PORTO website. By the way, don't throw away your 'ANDANTE' ticket if you are coming back to Porto. It is rechargeable. You can use it until it wears out and saves you €0.60 on each subsequent ticket of the same type. Tickets are sold at the Airport tourist office, but if it's not open you will need some coins for the ticket machines. The service to the Airport from Trindad starts at 0558 on weekdays, 0622 at weekends and on public holidays, with the last train at 0037 every night. The first direct trains from Campanhã station to the airport are at 0710 on weekdays, 0700 on Saturdays and 0703 on Sundays and Holidays. The last train from Campanhã is at 0031 every night. If no direct train is shown, take any WESTBOUND train and change at Trindad station.

At Campanhã walk round from the Metro station to the main railway station of CP, Portuguese Railways. That takes only a minute.

From there, local electric trains of the Porto Urbanos network run to Guimarães about once every TWO hours, with extra trains on weekday rush hours. The journey takes about 1 hour and 10 minutes and will cost €3.25. There are simple to use ticket machines in the hall; there were long lines at the ticket office all three times I was there. The machines take notes as well as coins. Special note - all CP Porto Urbanos train tickets are now issued on a rechargeable card called SIGA. This costs 50 cents. Do not throw it away as it can be used for second and subsequent ticket purchases on the Porto Urbanos network. NB these tickets are NOT VALID on Intercity trains. Urbanos trains are (mostly) bright yellow!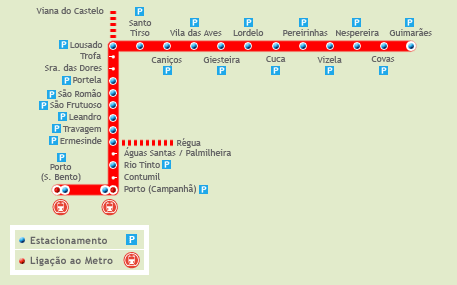 First train from Campanhã is at 0625 on weekdays, 0730 daily and the last train is at 2325 daily. These start from Porto São Bento five minutes earlier. Be sure to check timetables at the Portugal Railways Official website


First train from Guimarães to Porto is at 0553 on weekdays, 0653 then 0853 at weekends and holidays, with the last trains at 2148 and 2247 daily. Trains run about every 2 hours with extra trains during weekday rush hours.

If you plan to spend some time in Porto before moving on, the trains to Guimarães start at the city centre SÃO BENTO station. This historic building is in the heart of the city (it has a Metro station also) and is worth a visit in its own right!


By bus from Porto city centre

Rede - Expressos has about eight buses each way daily between Porto Campanhã bus station and Guimarães - website for times and tickets here. Journey time about one hour. You can get to the bus station on the metro, alighting at Campanhã station, which is two minutes walk from the bus station. The journey from the airport is about 35 minutes and is mostly above ground.


TRANSDEV has a local bus service between Porto (Régulo de Magauanha bus station) and Guimarães with seven buses each way on weekdays, but no weekend or holiday service.


You can now pay for

Lisbon

metro journeys

using contactless payment. Each journey including transfer to another line if needed will cost €1,65.

If you are not planning to spend time in Lisbon, you will need to get from the Airport to LISBOA ORIENTE station. Obviously, taxis are available. However, this is very simple using the Lisbon metro (subway) from the airport station. Trains run to Oriente station every few minutes from 0630 until 0100 every night. The journey takes about 5 minutes, ticket price €2,15, which includes the 50 cents for the rechargeable ticket card. There is also city bus 744 to Oriente, however large luggage is not allowed. City bus details at http://www.carris.pt/


If you are planning to spend time in Lisbon, most trains to the north start from the city centre SANTA APÓLONIA station. Check timetables and buy tickets at www.cp.pt

There is currently only one train every day direct from Lisbon to Guimarães. In the morning there is a daily Intercity train leaving Lisbon Santa Apolónia at 1130hrs arriving in Guimarães at 1549hrs. The return trip leaves Guimarães at 1641 daily, arriving in Lisbon at 2100hrs. One way tourist (2nd) class fare is €26,75 on those trains, less if booked in advance. Advance reservation is highly recommended. (The other trains, from Lisbon in the afternoon and from Guimarães to Lisbon in the morning are currently marked on the timetable as 'suspended until further notice'.)

You can create more journey options (about another eight trains) by taking one of the frequent trains between Lisbon and Porto (Campanhã) and changing to / from the local 'Urbanos' service there. Train times are subject to change around major public holidays, for example Easter, Christmas and New Year. Check official timetables carefully when making your reservations.

Reservations for train trips in Portugal can only be made up to a MAXIMUM of 60 days in advance. You can reserve on line at www.cp.pt and print your own ticket. A big discount is available on many trains for tickets purchased more than 8 days in advance. DO NOT use RailEurope etc as they cannot issue the required seat reservation for which you will pay extra.
Lisbon - Guimarães by long distance bus (coach) operated by Rede Expressos

For most departures, you will need to make your way from the airport to the SETE RIOS bus terminal. This is about 3 miles/5km from the airport and is linked to it by the metro. Take any train to the end of the line at São Sebastião then change to the Blue Line for a two stop ride to Jardim Zoológico station which is adjacent to Sete Rios. Trains run every few minutes from 0630 daily, the journey will take around 25 minutes and cost €2,15 including the 50 cents for the rechargeable ticket card.
The direct Aerobus service between the Airport and Sete Rios is no longer operating.
For your bus options from elsewhere in the city check the city bus website at http://www.carris.pt/

Consult the Portuguese long distance bus website www.rede-expressos.pt for Lisbon - Guimarães times and tickets; remember it's LISBOA in the timetable search. One-way fare standard fare is currently €23.00 and the journey takes about 4hrs 45 minutes. There are currently two direct journeys most days. Otherwise, a change is needed in Porto, as shown in the timetable. Extra journeys (some direct) run on Fridays and Sundays in both directions during University terms. There are also a few departures from Lisboa ORIENTE bus terminal, which is next to the railway station and much closer to the airport. Check both sets of times.

Rede Expressos also has journeys to Guimarães from many towns and cities through Portugal.

Lisbon - Guimarães by long distance bus (coach) operated by Flixbus
Flixbus run about four journeys daily each way between Lisbon Oriente and Guimarães. Journey time 5 hours and 5 minutes, plus the time it takes you get to Oriente from the city centre..

Arriving in Guimarães
The railway station in Guimarães is on the southern edge of the city centre, about six or seven minutes uphill walk. (Downhilll on the way back of course!) Taxis are outside as are several local buses. It's at Avenida Dom João IV, Map.

The bus station in Guimarães is a little closer to the city centre, at the Jardim da Alameda Mariano Felgueiras. Look for Central de Camionagem on the map. It is close to McDonalds, the Hotel IBIS and a large shopping centre.

The tourist office is located in the historic city centre at Largo Cónego José Maria Gomes, 4800 - 419 Guimarães.
Getting around in Guimarães
Guimarães is a walkable city, if a bit hilly! The historic centre is traffic-free. If you need local buses around the city and immediate suburbs, consult the city bus website ; these buses operate under the name Guimabus. The website is only in Portuguese.

Click the tab 'Descarragar Horários Diurno' for day time buses. Descarrager Horários Noturno will show the times of the buses after about 2000hrs / 8pm.

There are two circular routes (numbers 003 and 004) around the centre, university campuses and railway station operated by electric buses, running every 20 -30 minutes on weekdays from 0700 to 2030 on weekdays, every 40 minutes on Saturdays, Sundays and Holidays.

There is a zonal fare system with tickets for single journeys starting at €1,05. A pre paid ten journey ticket reduces the cost by around 10%.

There is no system map I can find, but there are various interactive maps (click Planeador de Viagens) to help you find a stop and plan a journey. Bus stops and times are also shown on Google Maps.

The good bus service is because there is a large University campus (Universidade do Minho) located there. There is a large outdoor market on Fridays, behind the castle, well worth a visit.

Cable Car

There is a téléferico (cable car) from the city to Penha, a hill resort some 1300 feet/400 metres above town and a mile (1.6km) distant. Well worth a ride (€7,50 up and back down for adults and children aged 12 and over; €3.50 for children aged 6 to 11, free for very young children) for the views if it's a clear day. It is currently open from 10.00 until 18.15 every day. Days and hours of operation are fewer in winter. Good walking and general recreation areas. Website with some details here but only in Portuguese.

Further afield from Guimarães
The website is https://avemobilidade.pt/home and is partly available in English.
Buses are reasonably frequent on weekdays, but very few run on Saturdays and on many routes there are none on Sundays or Holidays. Most interurban bus service ends around 2000hrs / 8pm. Please bear these things in mind before making your plans too firm.

Guimarães < > Braga by bus

This is AVE route 9304 which runs every 30 - 60 minutes on weekdays, less frequently at weekends. Go to https://avemobilidade.pt/schedules and select the 'line' number (they use American English) and be aware that there are different choices for Dias Úteis (weekdays), Sábado (Saturdays) and Domingos (Sundays and Holidays)

Bus 101 Guimarães <> Braga (slower) runs via the Universities do Minho and Guimarães, times here.

In addition to these buses, the Rede Expressos long distance bus company operates several non stop journeys every day but these are more expensive. Rede Expressos tickets can be purchased from their website or using their app. Journey time 25 minutes.

It is not possible to travel between Braga and Guimarães by train except by a very long and indirect route.
Football Stadium in Guimarães
The stadium of SC Vítoria Guimarães is within easy walking distance of the city centre, you will be pleased to know. It's on the northern edge of town in "Parque Central".
Comments and updates
If you have any comments or updates for this page, I will be pleased to receive them by email. For more about Guimarães as a city, please see this article in Wikipedia.


I take no responsibility for any inconvenience caused as a result of later changes to times etc. This page is for general guidance only and you must check details before making commitments and decisions!

Back to the home page here
www.algarvebus.info