GUIMARÃES - how to get there by train or bus and how to get around
DURING THE CURRENT 'CRISIS' THESE TIMES MAY ALTERED AT VERY SHORT NOTICE.

PLEASE CHECK AT THE OFFICIAL WEBSITES FOR THE TIMES ON THE EXACT DATE YOU PLAN TO TRAVEL
LONG DISTANCE TRAIN SERVICE IS CURRENTLY REDUCED FROM WHAT IS STATED BELOW
LONG DISTANCE BUS (COACH) TICKETS MAY BE AVAILABLE ONLY 30 DAYS IN ADVANCE
I have no easy means to check or update so please confirm through sources given below.

Guimarães (pop.55,000, urban area 112,000) is a city of Northern Portugal - it is not in the Algarve. I was visiting. It stands about 54km (34 miles) north-west of the major city of Porto.
It is therefore about the same distance from PORTO airport. Lisbon and its airport are some 365km (250 miles) to the south.
From Porto Airport to Guimarães

Direct bus

GETBUS operates a direct service between Porto Airport and Guimarães, costing €8 each way or €14 return. There is currently a very limited service of only two or three buses each way. The journey takes 50 minutes and is the quickest way. Tickets can be bought on line or from the bus driver. At Guimarães tickets are also sold at the Mondinense ticket office in the bus station.

Metro and train

By metro and train it is more frequent, straightforward and inexpensive, but slower. Take the METRO DO PORTO Line E from the Airport to Campanhã station. You will need to change trains at Trindad station, which is now the end of the E line. Trains are currently running about every 30 minutes every day. The first train from the airport is at 0557, the last train at 0042 every day. That will take about 35 minutes and costs €2.60 - a Z4 (four zone) ticket More details at the METRO DO PORTO website. By the way, don't throw away your 'ANDANTE' ticket if you are coming back to Porto. It is rechargeable. You can use it until it wears out and saves you €0.60 on each subsequent ticket of the same type. Tickets are sold at the Airport tourist office, but if it's not open you will need some coins for the ticket machines. [The service to the Airport from Trindad starts at 0616 every day with last train at 0044 every night.]

At Campanhã walk round from the Metro station to the main railway station of CP, Portuguese Railways. That takes only a minute.

From there, local electric trains of the Porto Urbanos network run to Guimarães about once every TWO hours, with extra trains on weekday rush hours. The journey takes about 1 hour and 10 minutes and will cost €3.25. There are simple to use ticket machines in the hall; there were long lines at the ticket office all three times I was there. The machines take notes as well as coins. Special note - all CP Porto Urbanos train tickets are now issued on a rechargeable card called SIGA. This costs 50 cents. Do not throw it away as it can be used for second and subsequent ticket purchases on the Porto Urbanos network. NB these tickets are NOT VALID on Intercity trains. Urbanos trains are (mostly) bright yellow!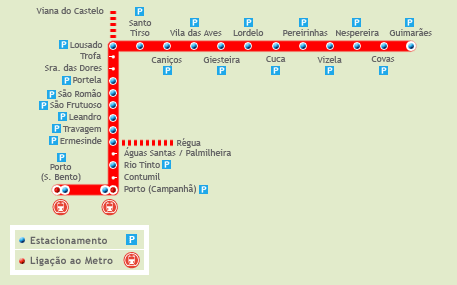 First train from Campanhã is at 0630 on weekdays, 0730 daily and the last train is at 2325 daily. These start from Porto São Bento five minutes earlier. Be sure to check timetables at the Portugal Railways Official website

First train from Guimarães to Porto is at 0553 on weekdays, 0653 at weekends and holidays, with the last trains at 2148 and 2247 daily. Trains run about every 2 hours with extra trains during weekday rush hours.

If you plan to spend some time in Porto before moving on, the trains to Guimarães start at the city centre SÃO BENTO station. This historic building is in the heart of the city (it has a Metro station also) and is worth a visit in its own right!

By bus from Porto city centre

The bus fare is nearly double the train fare.
The Arriva 'Rápida' bus service (route 500) also runs between Porto and Guimarães, making the trip in about 50 minutes. Buses run every 1 - 2 hours on weekdays, less frequently at weekends. There is no service on 1st January, Easter Sunday and 25th December. Timetable here. The Porto terminal for Arriva is in Rua Régulo Magauanha, close to the Trindad metro station.

TRANSDEV also has a local bus service between Porto (Campo 24 de Agosto) and Guimarães with six buses on weekdays, three on Saturdays and two on Sundays and holidays.

If you are not planning to spend time in Lisbon, you will need to get from the Airport to LISBOA ORIENTE station. This is now very simple using the underground metro trains (subway). Trains run to Oriente station every few minutes from 0630 until 0100 every night. The journey takes about 5 minutes. There is also city bus route 744 to Oriente.

There is also city bus 744 to Oriente station, details on Lisbon city bus website

If you are planning to spend time in Lisbon, most trains to the north start from the city centre SANTA APÓLONIA station. Check timetables and buy tickets at www.cp.pt

There are currently two trains every day direct from Lisbon to Guimarães. In the morning there is a daily Intercity train leaving Lisbon Santa Apolónia at 1130hrs arriving in Guimarães at 1540hrs. The evening trip (which does not run on Saturdays) leaves at 2000hrs, arriving in Guimarães at 2350hrs.

The return trips leave Guimarães at 0639 (except Sundays) arriving in Lisbon Santa Apolónia at 1040hrs, and at 1641 daily, arriving in Lisbon at 2100hrs. One way tourist (2nd) class fare is €26,60 on those trains, less if booked in advance. Advance reservation is highly recommended.

You can create more journey options (about another eight trains) by taking one of the frequent trains between Lisbon and Porto (Campanhã) and changing to / from the local 'Urbanos' service there. Train times are subject to change around major public holidays, for example Easter, Christmas and New Year. Check official timetables carefully when making your reservations.
Reservations for train trips in Portugal can only be made up to a MAXIMUM of 60 days in advance. You can reserve on line at www.cp.pt and print your own ticket. A big discount is available on many trains for tickets purchased more than 8 days in advance. DO NOT use RailEurope etc as they cannot issue the required seat reservation for which you will pay extra.
Lisbon - Guimarães by bus (coach) operated by Rede Expressos

For most departures, you will need to make your way from the airport to the SETE RIOS bus terminal. This is about 3 miles/5km from the airport and is linked to it by the newly-opened metro line. Take any train to the end of the line at Sao Sebastião then change to the Blue Line for a two stop ride to Jardim Zoológico station which is adjacent to Sete Rios. Trains run every few minutes from 0630 daily, the journey will take around 25 minutes and cost €2

There is also a direct bus, Aerobus 2, from the airport to Sete Rios but running only once each hour from 0800 to 1900hrs. Consult the Aerobus website for details. For your bus options from elsewhere in the city check the city bus website at http://www.carris.pt/

Consult the Portuguese long distance bus website www.rede-expressos.pt for Lisbon - Guimarães times and tickets; remember it's LISBOA in the timetable search. One-way fare standard fare is currently €21.00 and the journey takes about 4hrs 45 minutes. There are currently (April 2021) no direct journeys most days. A change is needed in Porto, as shown in the timetable. Extra journeys (some direct) runon Fridays and Sundays in both directions during University terms. There are also a few departures from Lisboa ORIENTE bus terminal, which is next to the railway station and much closer to the airport. Check both sets of times.

Rede Expressos also covers journeys to Guimarães from many towns and cities through Portugal.

Arriving in Guimarães
The railway station in Guimarães is on the south-western edge of the city centre, about six or seven minutes downhill walk. (Uphill on the way back of course!) Taxis are outside as are local buses. It's at Alameda Drº Mariano Felgueiras, close to the large shopping centre Guimarães Shopping and the Hotel IBIS. Map.

The bus station in Guimarães is a little closer to the city centre, but a fairly stiff uphill walk. It isn't well signposted (look for Central de Camionagem) but It is close to McDonalds, the Hotel IBIS and a large Continente supermarket.

The tourist office is located in the historic city centre at Largo Cónego José Maria Gomes, 4800 - 419 Guimarães.
Getting around in Guimarães

Guimarães is a walkable city, if a bit hilly! The historic centre is traffic-free. If you need local buses around the city and immediate suburbs, consult the city bus website ; these buses operate under the name TUG - Transportes Urbanos de Guimarães - and are operated by Arriva Portugal. The website is only in Portuguese. The fare for any trip paid cash is €1,82 but various passes and multi-ride tickets are available to considerably reduce that cost.

There is a circular route around the centre operated by electric buses, running every 30 minutes every day from 0800 to 1900 on weekdays, 1830 at weekends and holidays.

On the website, click the box marked Horarios for timetables. Unusually for Portuguese cities I have visited, these buses not only operate at fixed intervals (eg every 20, 30 or 60 minutes) but some routes also run until 2300 or midnight, including weekends! For travel after about 2000hrs, the night bus (Rede Noturna) times are on a separate page. Rather annoying is that there is no system route map.

The good bus service is because there is a large University campus (Universidade do Minho) located there. There is a large outdoor market on Fridays, behind the castle, well worth a visit.

Further afield from Guimarães
Guimarães is at the end of the railway line, so the train does not give any options apart from getting back to Porto or Lisbon.

Several bus companies operate from Guimarães bus station to a variety of nearby destinations. I recommend that if you are intending to roam the area or make an onward journey by bus, you visit the bus terminal as soon as possible after your arrival. Each bus company has its own office, so you may need to make several enquiries, which is why I didn't.

Buses are reasonably frequent on weekdays, but very few run on Saturdays and there are almost none on Sundays or Holidays. Most interurban buses finish around 8pm. Please bear these things in mind before making your plans too firm.

There is a plan of the large bus terminal here, showing which stops are used by Arriva's buses. External link.

Bus companies operating from the terminal include:

TransDev - buses to Braga, Viana do Castelo, Vizela, Póvoa de Varzim and Famalicao
Arriva - buses to Braga, Brito, Famaliçao, Fafe, Póvoa de Varzim and Santa Luzia.

EBA - buses to Braga jointly with other companies - see below.

Guimarães < > Braga

The current timetable for buses between Guimarães and Braga can be viewed and downloaded here
Buses to Braga are a joint operation between TransDev and EBA. Buses run about every hour on weekdays until 8pm, but less frequently on Saturdays and only about every 90 minutes on Sundays and holidays. These run through Caldas Taipas, a well-known spa resort, and Morreira. There is no longer a downloadable timetable. For bus times consult the websites above.

CURRENTLY NOT OPERATING! There WAS also a fast bus once each hour on weekdays via the motorway, timetable here look for Bus Plus 05. This bus basically operates only when the schools and universities are open; check the timetable calendar carefully. On this timetable the reference (CC) means the main bus station in the respective cities.

In addition to these buses, the Rede Expressos long distance company operates several non stop journey every day but these are more expensive.
These are not part of the joint operation and the other tickets are not valid. Rede Expressos tickets can be purchased from their website. Journey time 25 minutes.

CLOSED UNTIL FURTHER NOTICE - There is a téléferico (cable car) from the city to Penha, a hill resort some 1300 feet/400 metres above town and a mile (1.6km) distant. Well worth a ride (€3.60 up and back) for the views if it's a clear day. Good walking and general recreation areas. Website with all the details here but only in Portuguese.

Football Stadium in Guimarães
The stadium of SC Vítoria Guimarães is within easy walking distance of the city centre, you will be pleased to know. It's on the northern edge of town in "Parque Central".
Comments and updates
If you have any comments or updates for this page, I will be pleased to receive them by email. For more about Guimarães as a city, please see this article in Wikipedia.


I take no responsibility for any inconvenience caused as a result of later changes to times etc. This page is for general guidance only and you must check details before making commitments and decisions!

Back to the home page here
www.algarvebus.info